Hello, Guest!
Member's Local Time
USA-EST
UK
South Australia


Flight

Great excitement for one all
Not only for one, but for Me and all
For today I go to the land of the potato.
Ireland of the green is where I go
With my Father, who was but born.
On that green and Emerald Isle.

A birthday treat for this seventy year old
Who hath not seen his home
since he be fourteen years old.
All great joy has we all but cram
into my little red Metro.

Sister, Father and I, off to airport we go.
Arriving with time to spare.
Oh I wait an anticipate
For this be my first flight, you see.
Never flown in aircraft before
So nerves hope not show,
excitement should but grow.

Flight now be late, nerves do shake
When aircraft land I did but see…..
The bloody thing is so ancient an old.
The plane had propellers' with fuselage so small.
Oh great joy for me and my Father.

Onto aircraft and sit by window I found
Along the runway did plane go
Shaking and rattling as it went
Wheels lift off the ground they did
Eyes held tightly closed, with a slight peek.
Up and up it went till ground far below
Oh my word will the floor fall out.

Approaching Dublin Airport we descend
Through clouds did plane shake and fall
Down and down we go, then wheels do
Screech upon the tarmac ground and brakes fall on
Fast run along the tarmac the plane went well
Tight left turn onto taxi-way to end the run
My first flight ends without any fault
A sigh of relief I did but give
For now this was my first flight by plane
Now I can't wait to fly again to countries
Far and wide…….
© 2011 RichieO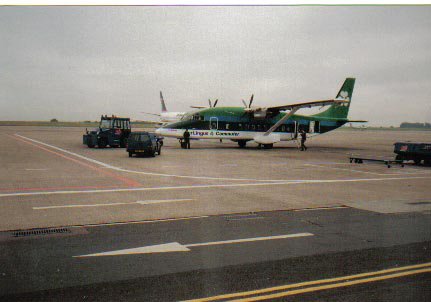 Nice work matey
I hope Dad enjoys himself

peewee

.





Posts

: 1430


Author Credits

: 2300

---

Accolades

: 14


Join date

: 2010-08-01


Age

: 63


Location

: Suffolk UK



Thanks Pete, My Dad was overwhelmed it was his first time back after a 56 year absence. He was born in Dublin and he too my Sister and I all over the place where he lived and played as a boy.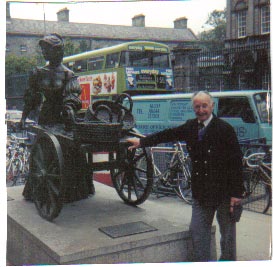 Dad by "Molly Malone" Dublin
Wonderful memories of your first flight Richie....I was petrified on mine and I still don't enjoy it much!
I am loving the wonderful happy picture of your sweet Dad....God bless him! Such a lovely warm man....and a great sense of humour too!

jinettyx

Author





Posts

: 788


Author Credits

: 981

---

Accolades

: 33


Join date

: 2011-09-20



wow Richie what a wonderful descriptive piece of writing-well done sir!

Maybe we should have a prompt describing our first experiences......??

Lucie

Author





Posts

: 979


Author Credits

: 1556

---

Accolades

: 95


Join date

: 2011-05-29



Aw thanks Jinettyx and Lucie, yeah my first flight kept thinking the floor would open up and we all fall out. Lucky I weren't doing a parachute jump don't think I would have left the plane....lol
Dad loved his trip back to Dublin took me and my sister to where he used to live, alas the street and the local railway station all goe now. There was the pub which he remembered that was still there and we all had a drink inside the bar. Talk about turning back the clocks, he remembered every detail of the interior of the pub.
Hmmm...now I wonder where my sense of humour comes from.......
Hey that sounds like a good idea Lucie, who's going to host it, maybe there's a space left for a prompt....!
Hey that sounds like a good idea Lucie, who's going to host it, maybe there's a space left for a prompt....!


Similar topics
---
Permissions in this forum:
You
cannot
reply to topics in this forum