Hello, Guest!
Member's Local Time
USA-EST
UK
South Australia

I'm thinking David should hirer new help, seems like all Pete is doing is making sure he's string the fence right. lol
At first I thought he was string a fence with Christmas tree lights ha ha

Dori




Posts

: 526


Author Credits

: 625

---

Accolades

: 4


Join date

: 2010-11-22


Age

: 57



LOL, that was the first day . . . we'd drove the T- posts the day before and were getting ready to run the 'field' fence to keep Sammy in:-) We ran 130 feet that first day, and the next, turned the corner and began running another 120 feet. Taking down the old, rusted fence and cleaning the fence row has slowed us down. Poppy is out there now (7:00 pm) with his headlight on driving U shaped nails . . ..

Lotsa fun
We've determined we're piss poor ranch hands, lol. The first day, we had to have a nap half way through!
Ha ha ha ha ha ha I've got a light lake that

peewee

.





Posts

: 1429


Author Credits

: 2299

---

Accolades

: 14


Join date

: 2010-08-01


Age

: 61


Location

: Suffolk UK



Sounds like it's going to take you awhile to finish the fencing, a day at a time Bev and David........'member this song.. "One day at a time sweet Jesus, that's all I'm needing from you, give me today to do everything....one day at a time."

Dori




Posts

: 526


Author Credits

: 625

---

Accolades

: 4


Join date

: 2010-11-22


Age

: 57



OH MY SWEET LORD..!!!!!!
Were Poppy and Peter split at birth???????
It's an uncanny likeness don't you think? Lol!!

jinettyx

Author





Posts

: 788


Author Credits

: 981

---

Accolades

: 33


Join date

: 2011-09-20



Ooooo Jin! Wait'll I tell poppy about that one:-)
Well, my back has went out on me. So . . . tomorrow David's friend Charlie MaCarthur is coming at 8am to help pop sting the last 75 feet. Then, we can let the yahoos run wild and free
Yard sale across the street today. I went over with my morning coffee to talk. (Bought what we wanted last night!) Anyway, a friend of the neighbor called and wanted to know if anyone was in the market for a 100 lbs Potbellied PIG. Course, poppy said NO. Course, I wasn't surprised. What the heck . . . don't need another rooter to contend with when I begin landscaping the back 40. What the world would you feed a 100 lbs potbellied pig? I spect anything it wants, lol!
I think it's the other way around. It looks like Pete is the director and David
is following orders...lol. Hehehee

Cheryl Brickner

Author





Posts

: 149


Author Credits

: 212

---

Accolades

: 1


Join date

: 2011-10-11


Age

: 57


Location

: Georgia



Pete is in the middle of EVERYTHING Cheryl, lol. She loves her daddy, thinking he is the coolest thing. A bit after the picture, he hooked a rope up to an old post and the back of the truck. When he started pulling it out, I thought she'd have a fit . . . she ran circling the truck as he slowly pulled the posts out.
Charlie and David finished the fence yesterday. I tell you, I wish you could have seen Sammy when I turned him loose! The little stinker ran full tilt ALL over that half acre back yard. It was adorable . . ..
Here's the bottom of that picture above:-)
Sammy: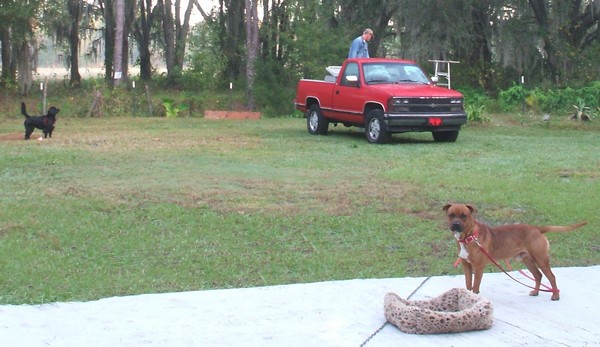 Similar topics
---
Permissions in this forum:
You
cannot
reply to topics in this forum