Hello, Guest!
Member's Local Time
USA-EST
UK
South Australia

.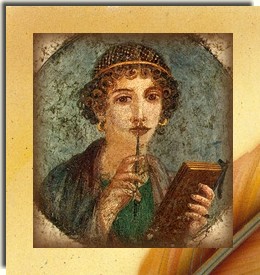 T
o rhyme or not to rhyme is not always the question.
To make poems happy or sad,
large or small is one's own discretion.
To write in perfect meter, with verbs all in a row
doesn't grow great poems. Is that what you were told?
Elements slip from stealth fingers;
near rhyme ends and enjambment lingers
like bees beneath rose nose's,
there's lots in poetry that's not presupposing.
You can chose your style, make your way clear
and decide to the "forms" you'll adhere.
You may write sonnets of sailors speaking Portuguese
or a 5 line tanka about cats called Burmese.
You itch for that quatrain plus one: a poem quintet!
But you type on and instead write a Sextet!
You might get upset and fret about being inept
for you've no more to say than a two line couplet.
or:
In passiveness , one line fains Haiku
. . . .
oh FOOY foo!
Well, sometimes poems just happens like that.
You think it's a winner, have it written down pat,
but you realize shortly it isn't always so,
for poetry isn't something you automatically know . . .
it's something you carefully grow!
© 2008 BC Williams
Last edited by BC Williams on Mon Apr 02 2012, 03:36; edited 1 time in total

_________________
Be obscure clearly. ~ E.B. White
how so very true... I just wish i had a bigger vocabulary.. I've noticed I seem to use the same words in most of mine!

looby

Guest





[When] I was writing all the time, there seemed to to be pet words I'd choose over and over! Like
ponder
. . . I was always pondering everything, lol. Oh, how deep of me huh?
I just love the etymology of words, learning root forms and understanding how the ancients put it all together. For instance, take my name: Beverly. Did you realise it means
beaver damn
? But then I surly like yours better Lucie.
Your
s is to be pondered for it's profoundness. Lucie, a girl's name, is a variant of Lucy (Latin), and it means
light
.
See, I just knew you were our little sunshine:-)
Sounds like a prompt thang to me!

_________________
Be obscure clearly. ~ E.B. White
Well Bev...She's always been my little ray of sunshine....I've never actually seen her frown or be down in the dumps....She's got an infectious smile!

jinettyx

Author





Posts

: 788


Author Credits

: 981

---

Accolades

: 33


Join date

: 2011-09-20



Speaking of smiles . . . when are you going to show us your lovely mug Ms Lucie?

Jin, I keep thinking she's like that picture I've seen on FB with the red dress and the Pippy Long Stockings hose, lol!

_________________
Be obscure clearly. ~ E.B. White
Oooooooooooooooooooh Noooooooooooooo!!!!


Lucie

Author





Posts

: 979


Author Credits

: 1556

---

Accolades

: 95


Join date

: 2011-05-29



Well Lucie....This is your challenge.....You MUST put up a picture of yourself in the next few hours, OR WE WILL select one for you!..Right Bev???

jinettyx

Author





Posts

: 788


Author Credits

: 981

---

Accolades

: 33


Join date

: 2011-09-20




Similar topics
---
Permissions in this forum:
You
cannot
reply to topics in this forum