Hello, Guest!
Member's Local Time
USA-EST
UK
South Australia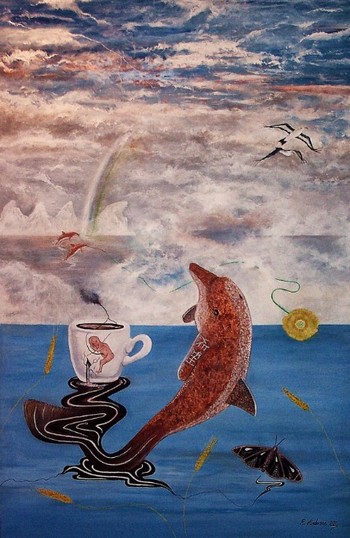 Butterflies On A Buttercup

Today, I danced and touched myself
Left the groceries to them self
I left the wolves in their cave
And spread my wings to find the ocean

I found the ocean like a potion
As the sun danced down on ripples
As warmth cradled clouds
I could feel my nipples, rise

Then waves and a thousand horses ran over me
To fields of barley in the sand
A rainbow took my hand
And left me where I longed to be
Within my mind of you

A mirrored reflection came to me
Droplets of water married me
The way this life used to be
I swam where dolphins engulfed my soul
And loved me for my very goal, In life

I tasted the salt in the wind
And heard the sound of a mandarin
As I danced and flirted with the air
Pan pipes played without a care

Let the wind blow through my dress
And show my thighs in all digress
I'm still as sensual in this, my jest
To what will bring, or follow

I placed a lily in my hair
To the child with this inquisitive stare
But today I dance without a care
I will kiss her heart tomorrow

I read a book and lazed around
I drank some wine and heard some sound
Today the sound came once around, again

Never give in, and never give up
We are butterflies, on a buttercup

Poetry and painting © 2011 by Robert Anderson
.
Beautifully writen, I enjoyed reading this very much, well done and welcome to the site ..

Sue McDonald

Author





Posts

: 662


Author Credits

: 1173

---

Accolades

: 16


Join date

: 2010-10-13


Age

: 60


Location

: Murray Bridge, Adelaide S.A.



This poem is a little deep for me. I do like the symbols you use to explain, though. I'm not a writer but I enjoyed reading it!

Have a good day.

AFriend

Guest





Enjoy reading the poem Bobby, the picture is just a great as the poem.. :)

Dori




Posts

: 526


Author Credits

: 625

---

Accolades

: 4


Join date

: 2010-11-22


Age

: 57



Wow! Can there be any more said?

Teresa Jane Price

Author





Posts

: 56


Author Credits

: 95

---

Accolades

: 1


Join date

: 2011-04-20


Age

: 56


Location

: Columbus, Ohio USA



Thank you so much for the lovely comments . It was written around cancer.
and the people that have to go through it for real .The painting took me around a month but the poem took five mins because it is part of life today. It is a scourge we have to live with. BEV? you know what it is like when we write real ??? we can write crap about landscapes and nice sky'S but death from this garbage is actually reality. If we can make a change to reality , through our art and poetry, then we we have done our jobs xxxxx
I may have lost my mojo Bobby:-) But yes, I do understand writing from the heart, finding the right words to express a bad situation. We writers of poetry have bags of tricks to innervate the emotions and deeper thoughts of our readers. If a piece touches the heart, than we've done our job. After all, actions have no voice in apathy . . .
Your work really does inspire me:-) Great writing, Bobby!

Thank you Bev, If we can kill it , then we can cure it is a roundabout xxxxx
You inspire me also girl xxxxxx

peewee

.





Posts

: 1429


Author Credits

: 2299

---

Accolades

: 14


Join date

: 2010-08-01


Age

: 62


Location

: Suffolk UK



Wonderfully written. Enjoyed your poem.

Little Owl

Author





Posts

: 95


Author Credits

: 107

---

Accolades

: 29


Join date

: 2012-03-29


Location

: Lakeland, Florida




Similar topics
---
Permissions in this forum:
You
cannot
reply to topics in this forum