Hello, Guest!
Member's Local Time
USA-EST
UK
South Australia

BpoetryWriters ::

:: [=EN(T)ER=]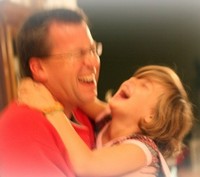 We all have moments when we do
things that in retrospect make us laugh.

Think back to another time and try and
recollect a moment in your life when you
did something that afterwards, made
you laugh at yourself for doing it.

peewee

.





Posts

: 1429


Author Credits

: 2299

---

Accolades

: 14


Join date

: 2010-08-01


Age

: 62


Location

: Suffolk UK



.
I was Fifteen going on thirty-two
with sunshades all fancy and new.
Eight changeable lens in a solid case,
but the rose-colored lens were the ones I embraced.
A big day arrived and I slipped them in my shirt
not knowing they'd soon be my disconcert.
Then off we rode in dad's shiny Bonneville,
toward Sea World, our big vacation thrill!
The ground rules were laid out pretty clear,
"Meet back at Shamu's eleven-o'clock premiere."
Folks shuffled east, my brother sprinted west
and I wandered, with myself quite impressed . . .
for you see, I knew I looked good struttin' along;
my world colored pink as I hummed a song -
like Elton John croonin' Crocodile Rock,
I had an extra thing in my girlie walk.
People looked - well maybe not stared,
but I figured they were jealous of these shades so rare,
and I smiled my biggest chessy grin
and took every bit on the chin.
Watch check, it was a quarter till time.
I was back first and leanin' on a dime
when I spied in the distance my brother heading in,
so I walked toward him - but he backed off.
"Hey, MARRRRRRRRK, over here, I'm here!"
He looked away and I figured he had wax in his ears.
So I padded on, and the closer I got
the more I saw his face grow dim.
Then he spewed, "What's the matter with you, you fool, you fool?"
and I couldn't believe he was being so cruel!
"Whada ya mean? What's wrong," I hurriedly questioned.
Shoulda known by his horrified expression.
"Take those damn things OFF! Getta way from me!"
and I felt panic strike me in wild decree.
So I slowly removed my fine rose shades
and discovered only one lens was displayed.
I was crushed, bruised,
then I blushed.
Made sense what the crowds were gawkin' for,
the look had to be something too hard to ignore.
So I took those shades, and the case too,
and tossed em in the bushes askew,
then walked away with my head held high -
a fool for pink shades for the very last time!
© 5.3.2011 by BC Williams

peewee

.





Posts

: 1429


Author Credits

: 2299

---

Accolades

: 14


Join date

: 2010-08-01


Age

: 62


Location

: Suffolk UK



Total Confusion




There I was
In this house
With a man
And his spouse

Standing in the living room
Everyone was there
Tool box at the ready
To repair a recliner chair

So I set off with the job
Tugging at the cover
Staples flying everywhere
One way and the other

As I had a replacing cover
Ripping wouldn't do any harm
So I cut tugged and ripped
At the old recliners arm

It wasn't till I got it off
That I had the ultimate fright
I had taken off the left arm
And it should have been the right

So I asked if I could have a drink
And tried to keep my cool
Hoping they wouldn't notice
And feeling a total fool

Well all's well that ends well
Even though it was my fault
I flew around like a mad thing
And they liked the end result

If I had checked the parts first
I could have cut the time by half
But when it was all over
I had to have a laugh



© 2011 Pee Wee

peewee

.





Posts

: 1429


Author Credits

: 2299

---

Accolades

: 14


Join date

: 2010-08-01


Age

: 62


Location

: Suffolk UK



Mercy! So you happened to have the right 'parts' out in the truck to cover the other arm? That's funny:-) Did they ever catch on?

I remember something happened a few years ago here in Florida. A man was in a hospital for an operation to have his left leg amputated. The docs did an 'oops' and cut the right one off! From them on, it became policy to marked body parts with a magic marker. But that poor man . . . they messed his life up, because they had to go ahead and cut that other leg off anyway. Rather be a single amputee than a double.
Had to get the old arm on again and then start again with the other one lol

peewee

.





Posts

: 1429


Author Credits

: 2299

---

Accolades

: 14


Join date

: 2010-08-01


Age

: 62


Location

: Suffolk UK



Okay, so you were able to undo the damage before moving forward, lol! Lucky:-)
My Blooming Head


Awesome Poems Peter and Bev, I got one floating around in my head I just got to get it out just right or it will not make any sense at all, I got a different T.V. stand (entertainment center actually) missionaries and a couple other friends brought it to me along with other furniture.

They got it all in the house breaking their backs doing so I think, got everything in place with lunch on the table, I wanted to have them watch Jesus Of Nazareth but it would just not play we tried this and we tried that the movie just would not play.

So I called up the company of the DVD/ VHS recorder, do you have it on the right channel, on three is what it's on as it should be, did you try the T.V. control buttons that makes the channel change not really thinking of what she meant every button we pressed except for the right one.

One of the missionaries pressed the buttons on the T.V. control then Lord behold there on the T.V. was the movie I wanted to watch, watch did you do what button did you press ?
Well everyone knows to play a movie you need the T.V. on AUX I thought it was already there me and my blooming head we just aren't right.

Dori




Posts

: 526


Author Credits

: 625

---

Accolades

: 4


Join date

: 2010-11-22


Age

: 57



So you didn't have the TV turned on? LOLOL! That would mess up the reception:-) Sounds like something I'd do.
I had it turned on, I just didn't have the umm........well you know when you want to watch a DVD movie you have to channel the channel to AUX (an off channel) I....well I didn't do that, I thought it was already on there, it was just me thinking again, which is very bad for me to do at times lol

Dori




Posts

: 526


Author Credits

: 625

---

Accolades

: 4


Join date

: 2010-11-22


Age

: 57




Similar topics
---
BpoetryWriters ::

:: [=EN(T)ER=]

Page 1 of 1
Permissions in this forum:
You
can
reply to topics in this forum