Hello, Guest!
Member's Local Time
USA-EST
UK
South Australia

Autumn Rails

As the wind blows
The trees do sway
Upon their branches
Their leaves do shake
Their dying colours do fade
To brown before falling to the ground.
Inside the leaf
There's energy, you see
They call it, Sap..
Tee Hee.

By a railway some trees do stand
So proudly and grand.
Railway tracks are there to see
They're like long magnets
The Autumn breeze does but help
Make the leaves fall right down
As the Leaves settle onto Shiny rails
They do but mix with morning dew
This does make them slippery
You may not but know.

Upon the platform do wait
The passengers for the 8.08
Which is running late
The train is seen approaching fast
And they wonder will it not past
Has the driver applies
The brake, the wheels
They do but lock
The driver, now fights for control
Takes the train Sliding right though
To the dismay of the Passengers who wait
They're now going to be late
A look along the track they do
For the next train in hope
As they stand and wait, for the next train
Which is due at half past eight.
© Oct. 18, 2011 by Richard O'leary
Last edited by ro'leary on Wed Oct 19 2011, 04:29; edited 1 time in total
Ahh, it's a wonderful poem Rich. I like the bit of whimsy you throw in every once in awhile, and the movement of color and words. Please keep writing; it may be your only way of staying sane:-)
LOL, you are a card, my boy! Now, just a couple things . . .
if you'll take a look at the complete bottom of any page, you'll see:

I'd like you to left click and hold your cursor button, scroll backwards, highlight, right click and COPY this:
Then . . . go back up to the bottom of your work, right click, and PASTE.
Then . . . I want you to make it look like this:
Oct. 18, 2011 by Richard O'leary
(or ro/leary, if you prefer!)
Then . . . I want you to stand up, pat your tummy with one hand and your head with your other hand and whistle God Save the Queen whilst holding your left foot high up and your eyes crossed looking down at your nose. Got it?
Huggies, bev
Haha! Bev....I have absolutely no doubt in my mind that you have just thrown out a challenge ( an easy challenge I might add) to the only person that can actually do all of this and more!!!!
I only wish I could actually see him doing it..!!!
A photo Richard, if you please!!!!!

jinettyx

Author





Posts

: 788


Author Credits

: 981

---

Accolades

: 33


Join date

: 2011-09-20



Well Bev hopefully I've done the right thing and put the Copyright in place...lol. I thought it did it automatically.
Now Jinettyx and Bev, for my next task of patting head tummy you'll have to wait until tomorrow when I am rest day and set up me camera.....lol
Last edited by ro'leary on Thu Oct 20 2011, 15:55; edited 1 time in total
Ah Richie, thank you so very much! No, it doesn't do it auto. I'm trying to help you all protect yourselves from getting your work stolen. We are open to the public, so it's possible, but if you're work is copyrighted with a date, we have something to prove ourselves with. Hey, it happened to me one time. I stumbled across one of my poems in some woman's blog! Well, her site date told the story. I was able to make her remove my work from her blog.
Really, you're gonna try to do all that? WE will be waiting with bated breath matey!
Hey, hey Bev always up for a challange if it can be done, done it will be....lol
Great poem Rich,
I can rub my tummy and pat my head at the same time, and MAYBE have my eyes crossed, BUT to stand on one foot IMPOSSIBLE ! ha ha
Pictures please Rich better yet VIDEO please if you can that is..

Dori




Posts

: 526


Author Credits

: 625

---

Accolades

: 4


Join date

: 2010-11-22


Age

: 57



loved the poem

this i got to see lol x

Jenna French




Posts

: 109


Author Credits

: 173

---

Accolades

: 1


Join date

: 2011-06-30


Age

: 32


Location

: middlesbrough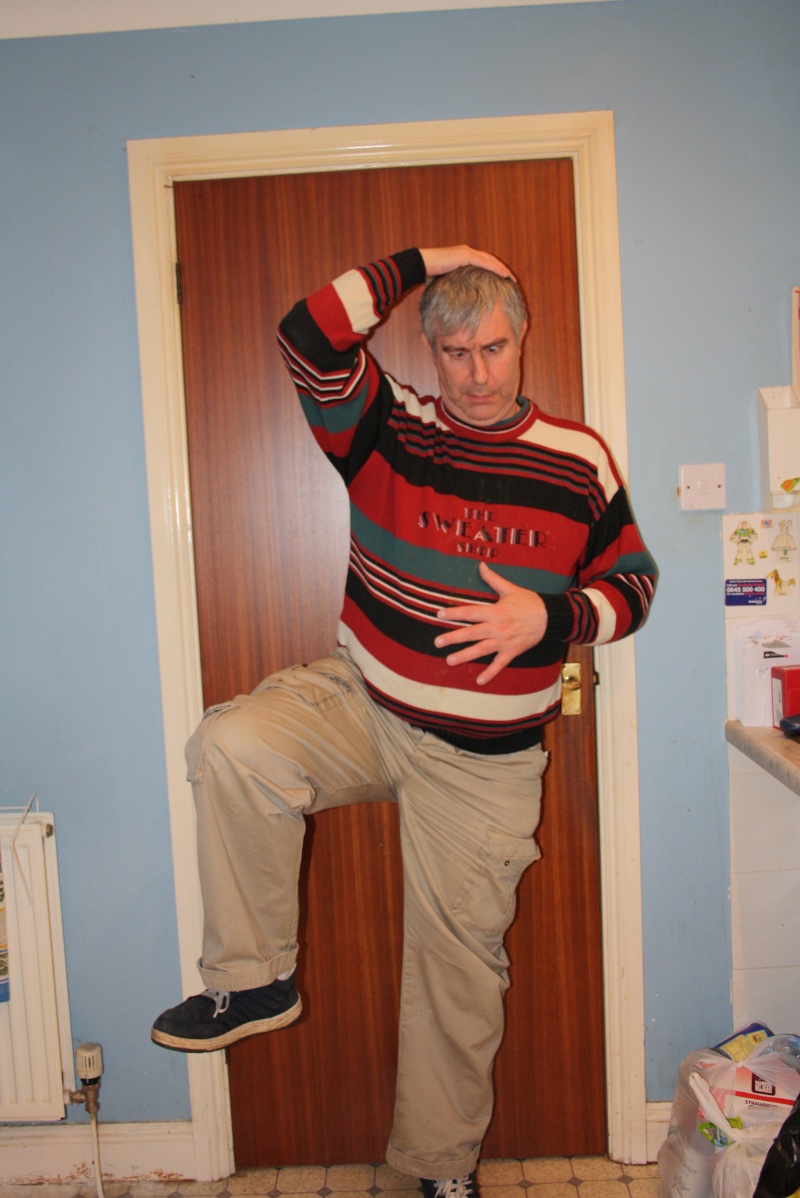 Here's the two piccy's one with the Left foot raised and one with the right.....lol
Oh Richie, you look like you're gonna begin heaving, lol! A man of many talents . . . you're depths we've surely not yet seen!
Thanks buddy!
Thanks Bev, only had 10 seconds to get into postion...lol
Lol!!! You never cease to amuse me!!!! Looks like you're doing the Irish Jig there!!!

jinettyx

Author





Posts

: 788


Author Credits

: 981

---

Accolades

: 33


Join date

: 2011-09-20




Similar topics
---
Permissions in this forum:
You
cannot
reply to topics in this forum