Hello, Guest!
Member's Local Time
USA-EST
UK
South Australia


Mountain Top

I stand and gaze at the beauty
So far away Upon this mountain
So tall and long……….

I look down from Whence I came
The toil and strife It took to climb
But beauty takes Away the pains,
I Suffered and strained To be on top
of this World brings joy to me

To sit and listen to no sounds of daily life
Brings a happiness into my life.
As I look into the green valleys below
I can see the lakes and the sea as well.

All is surreal and calm, it does appeal.
Distant mountains through misty clouds
I see, so lovely a sight before my eyes.

A lone eagle flies slowly by,
looking for his meal no doubt today
Its wing span so long as it floats upon the wind.

His Eagle eye is looking curiously upon me.
Its lone cry reminds me how lonely one can be...

But for me, today I am but content
and free to enjoy the sight before me.
So I sit and watch how life can live,
so high in this sky.

So, I've climbed my mountain today
The sights I've seen are fixed
in my memory so clear so sound
now its time to leave this mountain of mine
and join that hustle and bustle world
And return to that life so far down below.
© RichieO 2011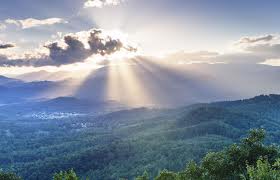 Oh Mr,O, you are getting sooo very good at this, sharing such a lovely peaceful vision with us on here!
I too remember just how wonderfully quiet it is perched on a mountain away from the rat-race...
( did a bit of trekking in Wales ) A wonderful experience for anyone wanting to get away from it all!! Thankyou for sharing your mountain..xxx

jinettyx

Author





Posts

: 788


Author Credits

: 981

---

Accolades

: 33


Join date

: 2011-09-20



Thanks Jinetty, I so remember my days climbing mountains in Wales and the Lake district. But it's gonna be a car now that gets me anywhere near the top nowadays.
Wales is nice I like it.....xxx
nicely descriptive Mr O'!

Lucie

Author





Posts

: 979


Author Credits

: 1556

---

Accolades

: 95


Join date

: 2011-05-29



I love my Smoky Mountains in North Carolina. When I am able to go, I always feel as if I am coming home. Lovely poem!

Little Owl

Author





Posts

: 95


Author Credits

: 107

---

Accolades

: 29


Join date

: 2012-03-29


Location

: Lakeland, Florida




---
Permissions in this forum:
You
cannot
reply to topics in this forum