Hello, Guest!
Member's Local Time
USA-EST
UK
South Australia


A LETTER FROM HOME…..
My Dearest Darling
I write to you in earnest,
worrying how you're coping.
They say the
'War will be over by Christmas'
but I fear not.
More soldiers are being sent
overseas on a daily basis.
We are now suffering
hardships here at home.
Food and clothing are
rationed and we have to
queue to get the small
amounts allowed.
The weather is bad,
the rain the snow
and the intense cold.
Firewood is hard to get
hold of nowadays and
the furniture looks tempting.
Many of the horses are now
been drafted into the army
I fear we shall never see
our 'Betsy' again.
I heard that a Zeppelin
dropped bombs on London,
how nasty these Germans are...!!
Emma, has just had her
first years birthday.......!
Oh when will you be
home to see her.
You left for France
before she was born.
Oh Mrs James got a Telegram
last week it came from
His Royal Highness,
strange we haven't seen her since.......!!
We're all wondering what it said.
Well the...........
A whistle blows, a shout "Come on Lads over the top"
© RichieO 2012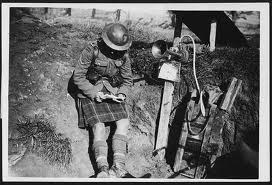 ---
Permissions in this forum:
You
cannot
reply to topics in this forum