Hello, Guest!
Member's Local Time
USA-EST
UK
South Australia


What Is A Day

What is a day? Is it from dawn
To dusk I pray. Is it the light that
Makes the day? Do we feel what
The day will bring for us.

Can our troubles wear away a day.
Do we find Joy? Do we find happiness?
Which would we like For our day to bring.
There is a joy in a day,
Which we hope it can but bring?
When we remember such
Small and little things that are buried
deeply within our minds.

From childhood days of love ones past.
These can return so quickly with vivid memories
which become so clear of those who are
No longer here to share them with you.
For they are the ones that used to hold your
Hand and make you feel safe and sound.

So remember those days, which have gone by?
For they are watching over your days
as you live them today. They smile and say.......
"Go on my dearest be happy, For me today"

So remember this on your birthdays, has they past
and you will live a happy and true life.

© RichieO 2011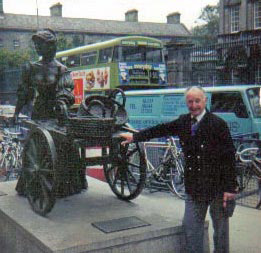 ah that deeply touching Rich
Is that lovely gentleman your father?..god bless him
Thanks, that thought will go with me today

Lucie

Author





Posts

: 979


Author Credits

: 1556

---

Accolades

: 95


Join date

: 2011-05-29



Such lovely memories will stay with you forever Rich...
Warm hug for your Dad in spirit..xx

jinettyx

Author





Posts

: 788


Author Credits

: 981

---

Accolades

: 33


Join date

: 2011-09-20



Ah thanks girls we've all lost someone that's precious to us all so the thoughts are for all.
And yes Lucie that was my Dad, lost him in 2000 but not before we took him home to his homeland in Dublin where he was born. He's standing next to Molly Malone statue in Dublin Town.
Have a happy day, cos your the one that can make it so, don't let people wear you down, it's harder for them to give grief. Remember that and life's like box of chocolates you never know whats in them until you eat one........You where that came from?

---
Permissions in this forum:
You
cannot
reply to topics in this forum